Central Valley Specialty Hospital - Snf
Inspection Results
---
Central Valley Specialty Hospital - Snf has been cited for a total of 19 deficiencies in our most recent deficiency data, which typically covers 3 health and fire safety surveys.

Tip: Surveys happen throughout the year and you may want to check with the location or here to see if more recent data is available for Central Valley Specialty Hospital - Snf.

There are 1191 nursing homes in California with a total of 65,103 deficiencies resulting in an average of 54.66 deficiencies per nursing home.

---
---
The following table describes how deficiencies are scored. An easy way to remember the severity of a deficiency's scope is that the further along in the alphabet (A through L) the scope value is, the more severe the deficiency is.
Additionally, A through F means no actual harm has happened.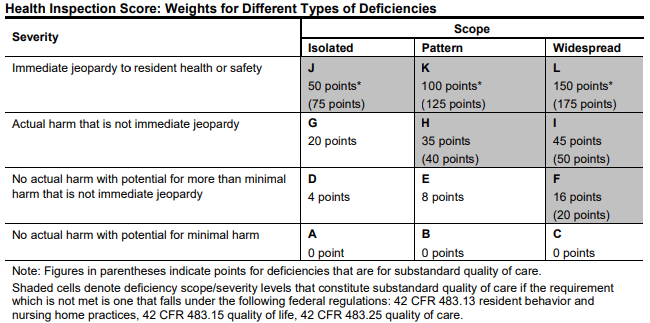 ---
Deficiency Cited, Scope, and Date of Correction
---
Give residents a notice of rights, rules, services and charges.
---
Allow residents to easily view the results of the nursing home's most recent inspection.
---
Keep each resident free from physical restraints, unless needed for medical treatment.
---
Develop and implement policies for 1) screening and training employees; and the 2) prevention, identification, investigation, and reporting of any abuse, neglect, mistreatment and misappropriation of property.
---
Provide activities to meet the interests and needs of each resident.
---
Provide medically-related social services to help each resident achieve the highest possible quality of life.
---
Ensure each resident receives an accurate assessment by a qualified health professional.
---
Ensure services provided by the nursing facility meet professional standards of quality.
---
Provide necessary care and services to maintain or improve the highest well being of each resident .
---
Keep the rate of medication errors (wrong drug, wrong dose, wrong time) to less than 5%.
---
Ensure that residents are safe from serious medication errors.
---
Store, cook, and serve food in a safe and clean way.
---
Provide routine and 24-hour emergency dental care for each resident.
---
Have a program that investigates, controls and keeps infection from spreading.
---
Choose a doctor to serve as the medical director to create resident care policies and coordinate medical care in the facility.
---
Have a detailed, written plan for disasters and emergencies, such as fire, severe weather, and missing residents.
---
Set up an ongoing quality assessment and assurance group to review quality deficiencies quarterly, and develop corrective plans of action.
---
Assure that each resident?s assessment is updated at least once every 3 months.
---
Store, cook, and serve food in a safe and clean way.
---
Learn more about Central Valley Specialty Hospital - Snf at the following resources
Inspection Results Penalty Enforcements Maps and Directions
Staff Size Medicare Ratings Ratings Comparison
or return to the main profile page for
Central Valley Specialty Hospital - Snf
---
Still looking for the right senior care match?
Search by key terms like services or cities you are interested in (Modesto medicaid, dialysis, price etc) below: