Rancho Mesa Care Center
Inspection Results
---
Rancho Mesa Care Center has been cited for a total of 22 deficiencies in our most recent deficiency data, which typically covers 3 health and fire safety surveys.

Tip: Surveys happen throughout the year and you may want to check with the location or here to see if more recent data is available for Rancho Mesa Care Center.

There are 1191 nursing homes in California with a total of 65,103 deficiencies resulting in an average of 54.66 deficiencies per nursing home.

---
---
The following table describes how deficiencies are scored. An easy way to remember the severity of a deficiency's scope is that the further along in the alphabet (A through L) the scope value is, the more severe the deficiency is.
Additionally, A through F means no actual harm has happened.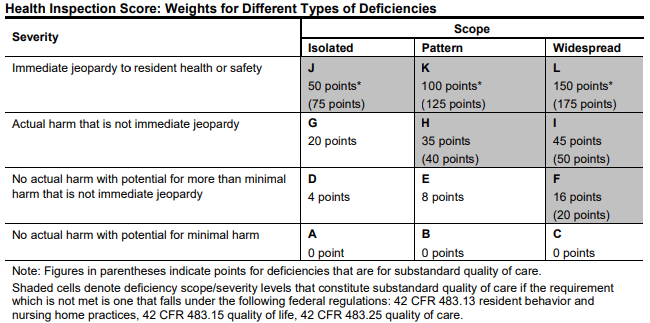 ---
Deficiency Cited, Scope, and Date of Correction
---
Assess the resident completely in a timely manner when first admitted, and then periodically, at least every 12 months.
---
Ensure each resident receives an accurate assessment.
---
Ensure that nurses and nurse aides have the appropriate competencies to care for every resident in a way that maximizes each resident's well being.
---
Implement gradual dose reductions(GDR) and non-pharmacological interventions, unless contraindicated, prior to initiating or instead of continuing psychotropic medication; and PRN orders for psychotropic medications are only used when the medication is ne
---
Ensure drugs and biologicals used in the facility are labeled in accordance with currently accepted professional principles; and all drugs and biologicals must be stored in locked compartments, separately locked, compartments for controlled drugs.
---
Provide routine and 24-hour emergency dental care for each resident.
---
Provide each resident with a nourishing, palatable, well-balanced diet that meets his or her daily nutritional and special dietary needs.
---
Provide and implement an infection prevention and control program.
---
Ensure that a nursing home area is free from accident hazards and provide adequate supervision to prevent avoidable accidents.
---
At least once a month, have a licensed pharmacist review each resident's medication(s) and report any irregularities to the attending doctor.
---
Keep accurate, complete and organized clinical records on each resident that meet professional standards.
---
Develop and implement policies for 1) screening and training employees; and the 2) prevention, identification, investigation, and reporting of any abuse, neglect, mistreatment and misappropriation of property.
---
Provide a safe, clean, comfortable and home-like environment; and allow residents to use personal belongings to the extent possible.
---
Provide necessary care and services to maintain or improve the highest well being of each resident .
---
Ensure that a nursing home area is free from accident hazards and provide adequate supervision to prevent avoidable accidents.
---
Maintain drug records and properly mark/label drugs and other similar products according to accepted professional standards.
---
Have a program that investigates, controls and keeps infection from spreading.
---
Make sure that a working call system is available in each resident's room or bathroom and bathing area.
---
Smoke barrier doors that can resist smoke for at least 20 minutes.
---
Record of quarterly fire drills for each shift under varying conditions.
---
Automatic sprinkler systems that have been maintained in working order.
---
Properly installed electrical wiring and equipment.
---
---
---
Learn more about Rancho Mesa Care Center at the following resources
Inspection Results Penalty Enforcements Maps and Directions
Staff Size Medicare Ratings Ratings Comparison
or return to the main profile page for
Rancho Mesa Care Center
---
Still looking for the right senior care match?
Search by key terms like services or cities you are interested in (Alta Loma medicaid, dialysis, price etc) below: