Life Care Center Of Collegedale
Inspection Results
---
Life Care Center Of Collegedale has been cited for a total of 5 deficiencies in our most recent deficiency data, which typically covers 3 health and fire safety surveys.

Tip: Surveys happen throughout the year and you may want to check with the location or here to see if more recent data is available for Life Care Center Of Collegedale.

There are 315 nursing homes in Tennessee with a total of 6,551 deficiencies resulting in an average of 20.80 deficiencies per nursing home.

---
---
The following table describes how deficiencies are scored. An easy way to remember the severity of a deficiency's scope is that the further along in the alphabet (A through L) the scope value is, the more severe the deficiency is.
Additionally, A through F means no actual harm has happened.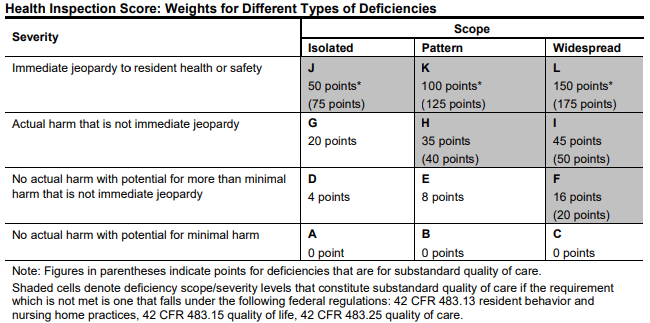 ---
Deficiency Cited, Scope, and Date of Correction
---
Ensure drugs and biologicals used in the facility are labeled in accordance with currently accepted professional principles; and all drugs and biologicals must be stored in locked compartments, separately locked, compartments for controlled drugs.
Category:
Pharmacy Service Deficiencies
---
Provide timely, quality laboratory services/tests to meet the needs of residents.
Category:
Administration Deficiencies
---
Make sure that the nursing home area is safe, easy to use, clean and comfortable for residents, staff and the public.
Category:
Environmental Deficiencies
---
Timely report suspected abuse, neglect, or theft and report the results of the investigation to proper authorities.
Category:
Freedom from Abuse, Neglect, and Exploitation Deficiencies
---
Respond appropriately to all alleged violations.
Category:
Freedom from Abuse, Neglect, and Exploitation Deficiencies
---
Learn more about Life Care Center Of Collegedale at the following resources
Inspection Results Penalty Enforcements Maps and Directions
Staff Size Medicare Ratings Ratings Comparison
or return to the main profile page for
Life Care Center Of Collegedale
---
Still looking for the right senior care match?
Search by key terms like services or cities you are interested in (Collegedale medicaid, dialysis, price etc) below: