John T Mather Memorial Hosp T C U
Inspection Results
---
John T Mather Memorial Hosp T C U has been cited for a total of 3 deficiencies in our most recent deficiency data, which typically covers 3 health and fire safety surveys.

Tip: Surveys happen throughout the year and you may want to check with the location or here to see if more recent data is available for John T Mather Memorial Hosp T C U.

There are 619 nursing homes in New York with a total of 16,403 deficiencies resulting in an average of 26.50 deficiencies per nursing home.

---
---
The following table describes how deficiencies are scored. An easy way to remember the severity of a deficiency's scope is that the further along in the alphabet (A through L) the scope value is, the more severe the deficiency is.
Additionally, A through F means no actual harm has happened.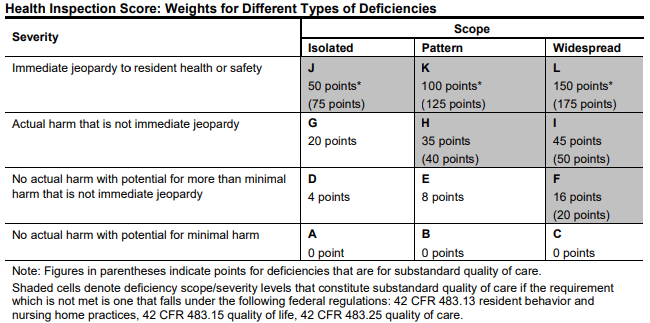 ---
Inspect, test, and maintain automatic sprinkler systems.
Category:
Smoke Deficiencies
---
Provide family notifications of emergency plan.
Category:
Emergency Preparedness Deficiencies
---
Install an approved automatic sprinkler system.
Category:
Smoke Deficiencies
---
Learn more about John T Mather Memorial Hosp T C U at the following resources
Inspection Results Penalty Enforcements Maps and Directions
Staff Size Medicare Ratings Ratings Comparison
or return to the main profile page for
John T Mather Memorial Hosp T C U
---
Still looking for the right senior care match?
Search by key terms like services or cities you are interested in (Port Jefferson medicaid, dialysis, price etc) below: