The Estates At Chateau Llc
Inspection Results
---
The Estates At Chateau Llc has been cited for a total of 30 deficiencies in our most recent deficiency data, which typically covers 3 health and fire safety surveys.

Tip: Surveys happen throughout the year and you may want to check with the location or here to see if more recent data is available for The Estates At Chateau Llc.

There are 373 nursing homes in Minnesota with a total of 12,811 deficiencies resulting in an average of 34.35 deficiencies per nursing home.

---
---
The following table describes how deficiencies are scored. An easy way to remember the severity of a deficiency's scope is that the further along in the alphabet (A through L) the scope value is, the more severe the deficiency is.
Additionally, A through F means no actual harm has happened.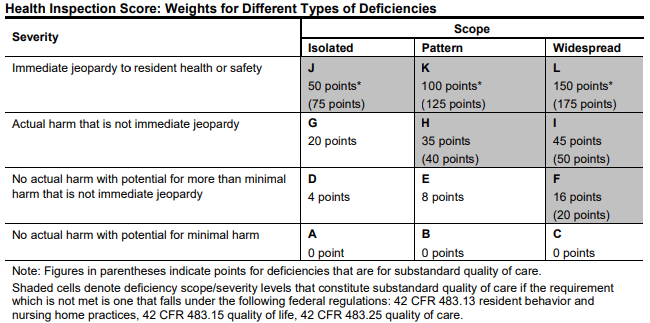 ---
Deficiency Cited, Scope, and Date of Correction
Protect each resident from all abuse, physical punishment, and involuntary separation from others.

Honor the resident's right to voice grievances without discrimination or reprisal and the facility must establish a grievance policy and make prompt efforts to resolve grievances.

Ensure each resident receives an accurate assessment.

Develop and implement a complete care plan that meets all the resident's needs, with timetables and actions that can be measured.

Provide care and assistance to perform activities of daily living for any resident who is unable.

Ensure each resident must receive and the facility must provide necessary behavioral health care and services.

Ensure medication error rates are not 5 percent or greater.

Ensure drugs and biologicals used in the facility are labeled in accordance with currently accepted professional principles; and all drugs and biologicals must be stored in locked compartments, separately locked, compartments for controlled drugs.

Ensure that a nursing home area is free from accident hazards and provides adequate supervision to prevent accidents.

Let residents refuse treatment, refuse to take part in an experiment, or formulate advance directives.

Provide care for residents in a way that maintains or improves their dignity and respect in full recognition of their individuality.

Listen to the resident groups and act on their complaints and suggestions that affect resident care and life.

Reasonably accommodate the needs and preferences of each resident.

Provide a safe, clean, comfortable and home-like environment; and allow residents to use personal belongings to the extent possible.

Allow residents the right to participate in the planning or revision of care and treatment.

Provide care by qualified persons according to each resident's written plan of care.

Provide necessary care and services to maintain or improve the highest well being of each resident .

Ensure that residents receive proper treatment and assistive devices to maintain their vision and hearing.

Ensure that each resident's 1) entire drug/medication regimen is free from unnecessary drugs; and 2) is managed and monitored to achieve highest level of well-being.

Develop policies and procedures for influenza and pneumococcal immunizations.

Have enough nurses to care for every resident in a way that maximizes the resident's well being.

Store, cook, and serve food in a safe and clean way.

At least once a month, have a licensed pharmacist review each resident's medication(s) and report any irregularities to the attending doctor.

Maintain drug records and properly mark/label drugs and other similar products according to accepted professional standards.

Immediately tell the resident, the resident's doctor, and a family member of situations (injury/decline/room, etc.) that affect the resident.

Ensure that residents are safe from serious medication errors.

Ensure heating and ventilation systems that have been properly installed according to the manufacturer's instructions.

Properly maintained smoke detectors.

Ensure heating and ventilation systems that have been properly installed according to the manufacturer's instructions.

Properly maintained smoke detectors.

---
Learn more about The Estates At Chateau Llc at the following resources
Inspection Results Penalty Enforcements Maps and Directions
Staff Size Medicare Ratings Ratings Comparison
or return to the main profile page for
The Estates At Chateau Llc
---
Still looking for the right senior care match?
Search by key terms like services or cities you are interested in (Minneapolis medicaid, dialysis, price etc) below: