Den-mar Health And Rehabilitation Center
Inspection Results
---
Den-mar Health And Rehabilitation Center has been cited for a total of 27 deficiencies in our most recent deficiency data, which typically covers 3 health and fire safety surveys.

Tip: Surveys happen throughout the year and you may want to check with the location or here to see if more recent data is available for Den-mar Health And Rehabilitation Center.

There are 394 nursing homes in Massachusetts with a total of 8,541 deficiencies resulting in an average of 21.68 deficiencies per nursing home.

---
---
The following table describes how deficiencies are scored. An easy way to remember the severity of a deficiency's scope is that the further along in the alphabet (A through L) the scope value is, the more severe the deficiency is.
Additionally, A through F means no actual harm has happened.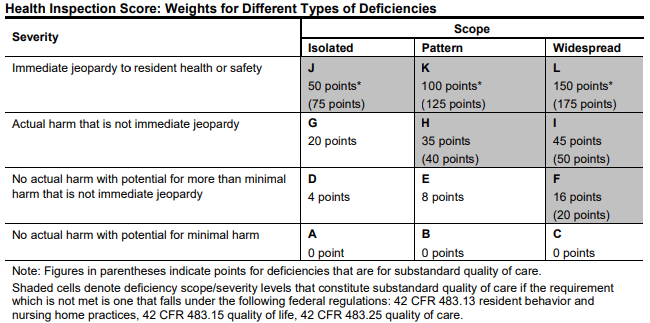 ---
Deficiency Cited, Scope, and Date of Correction
Allow residents to self-administer drugs if determined clinically appropriate.

Timely report suspected abuse, neglect, or theft and report the results of the investigation to proper authorities.

Create and put into place a plan for meeting the resident's most immediate needs within 48 hours of being admitted

Develop and implement a complete care plan that meets all the resident's needs, with timetables and actions that can be measured.

Develop the complete care plan within 7 days of the comprehensive assessment; and prepared, reviewed, and revised by a team of health professionals.

Ensure services provided by the nursing facility meet professional standards of quality.

Provide appropriate treatment and care according to orders, resident?s preferences and goals.

Provide safe, appropriate pain management for a resident who requires such services.

Try different approaches before using a bed rail. If a bed rail is needed, the facility must (1) assess a resident for safety risk; (2) review these risks and benefits with the resident/representative; (3) get informed consent; and (4) Correctly install

Ensure that nurses and nurse aides have the appropriate competencies to care for every resident in a way that maximizes each resident's well being.

Ensure each resident?s drug regimen must be free from unnecessary drugs.

Ensure drugs and biologicals used in the facility are labeled in accordance with currently accepted professional principles; and all drugs and biologicals must be stored in locked compartments, separately locked, compartments for controlled drugs.

Give the resident's representative the ability to exercise the resident's rights.

Allow residents to self-administer drugs if determined safe.

Assess in a timely manner the resident when the resident enters the nursing home.

Assure that each resident?s assessment is updated at least once every 3 months.

Develop a complete care plan that meets all the resident's needs, with timetables and actions that can be measured.

Provide care by qualified persons according to each resident's written plan of care.

Encode each resident?s assessment data and transmit these data to the State within 7 days of assessment.

Give or get quality laboratory services/tests in a timely manner to meet the needs of residents.

Provide a safe, clean, comfortable and home-like environment; and allow residents to use personal belongings to the extent possible.

Provide housekeeping and maintenance services.

Maintain comfortable sound levels.

Ensure each resident receives an accurate assessment by a qualified health professional.

Ensure that a nursing home area is free from accident hazards and provide adequate supervision to prevent avoidable accidents.

Have a program that investigates, controls and keeps infection from spreading.

1) Review the work of each nurse aide every year; and 2) give regular in-service training based upon these reviews.

---
Learn more about Den-mar Health And Rehabilitation Center at the following resources
Inspection Results Penalty Enforcements Maps and Directions
Staff Size Medicare Ratings Ratings Comparison
or return to the main profile page for
Den-mar Health And Rehabilitation Center
---
Still looking for the right senior care match?
Search by key terms like services or cities you are interested in (Rockport medicaid, dialysis, price etc) below: