Lakeview Manor Nursing Home
Inspection Results
---
Lakeview Manor Nursing Home has been cited for a total of 5 deficiencies in our most recent deficiency data, which typically covers 3 health and fire safety surveys.

Tip: Surveys happen throughout the year and you may want to check with the location or here to see if more recent data is available for Lakeview Manor Nursing Home.

There are 272 nursing homes in Louisiana with a total of 5,067 deficiencies resulting in an average of 18.63 deficiencies per nursing home.

---
---
The following table describes how deficiencies are scored. An easy way to remember the severity of a deficiency's scope is that the further along in the alphabet (A through L) the scope value is, the more severe the deficiency is.
Additionally, A through F means no actual harm has happened.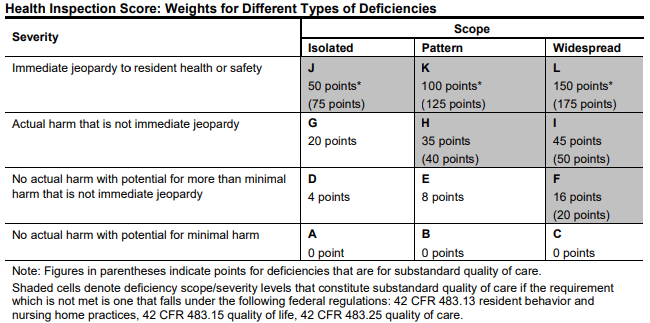 ---
Deficiency Cited, Scope, and Date of Correction
---
Ensure each resident receives an accurate assessment.
---
Procure food from sources approved or considered satisfactory and store, prepare, distribute and serve food in accordance with professional standards.
---
Provide routine and emergency drugs through a licensed pharmacist and only under the general supervision of a licensed nurse.
---
Meet other general requirements that are deficient.
---
Meet other general requirements that are deficient.
---
Learn more about Lakeview Manor Nursing Home at the following resources
Inspection Results Penalty Enforcements Maps and Directions
Staff Size Medicare Ratings Ratings Comparison
or return to the main profile page for
Lakeview Manor Nursing Home
---
Still looking for the right senior care match?
Search by key terms like services or cities you are interested in (New Roads medicaid, dialysis, price etc) below: