Hallmark Care Center
Inspection Results
---
Hallmark Care Center has been cited for a total of 7 deficiencies in our most recent deficiency data, which typically covers 3 health and fire safety surveys.

Tip: Surveys happen throughout the year and you may want to check with the location or here to see if more recent data is available for Hallmark Care Center.

There are 430 nursing homes in Iowa with a total of 13,048 deficiencies resulting in an average of 30.34 deficiencies per nursing home.

---
---
The following table describes how deficiencies are scored. An easy way to remember the severity of a deficiency's scope is that the further along in the alphabet (A through L) the scope value is, the more severe the deficiency is.
Additionally, A through F means no actual harm has happened.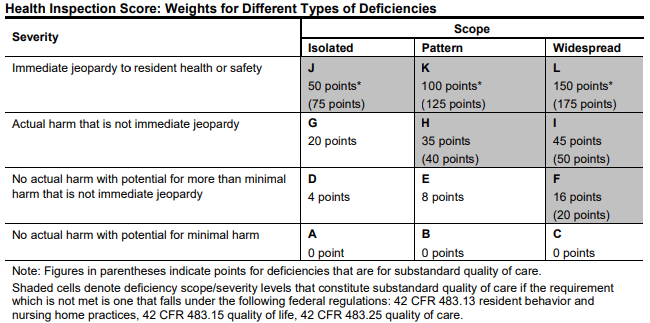 ---
Deficiency Cited, Scope, and Date of Correction
---
Provide and implement an infection prevention and control program.
Category:
Infection Control Deficiencies
---
Ensure services provided by the nursing facility meet professional standards of quality.
Category:
Resident Assessment and Care Planning Deficiencies
---
Have restrictions on the use of flammable curtains.
Category:
Miscellaneous Deficiencies
---
Ensure receptacles at patient bed locations and where general anesthesia is administered, are tested after initial installation, replacement or servicing.
Category:
Gas, Vacuum, and Electrical Systems Deficiencies
---
Follow proper procedures when the automatic sprinkler systems was out of service for more than 10 hours.
Category:
Smoke Deficiencies
---
Use approved construction type or materials.
Category:
Construction Deficiencies
---
Have simulated fire drills held at unexpected times.
Category:
Miscellaneous Deficiencies
---
Learn more about Hallmark Care Center at the following resources
Inspection Results Penalty Enforcements Maps and Directions
Staff Size Medicare Ratings Ratings Comparison
or return to the main profile page for
Hallmark Care Center
---
Still looking for the right senior care match?
Search by key terms like services or cities you are interested in (Mount Vernon medicaid, dialysis, price etc) below: