Wadsworth Glen Health Care Cen
Inspection Results
---
Wadsworth Glen Health Care Cen has been cited for a total of 11 deficiencies in our most recent deficiency data, which typically covers 3 health and fire safety surveys.

Tip: Surveys happen throughout the year and you may want to check with the location or here to see if more recent data is available for Wadsworth Glen Health Care Cen.

There are 224 nursing homes in Connecticut with a total of 5,626 deficiencies resulting in an average of 25.12 deficiencies per nursing home.

---
---
The following table describes how deficiencies are scored. An easy way to remember the severity of a deficiency's scope is that the further along in the alphabet (A through L) the scope value is, the more severe the deficiency is.
Additionally, A through F means no actual harm has happened.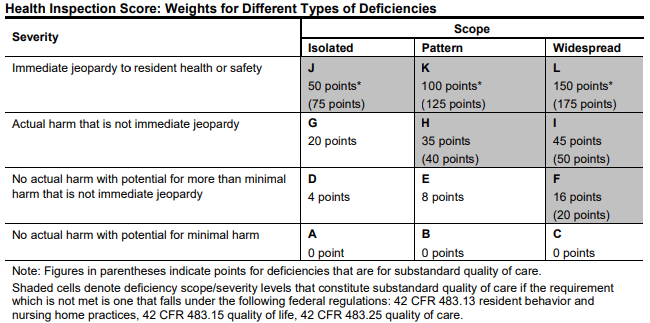 ---
Deficiency Cited, Scope, and Date of Correction
---
Ensure that residents are fully informed and understand their health status, care and treatments.
---
Honor the resident's right to be treated with respect and dignity and to retain and use personal possessions.
---
Ensure drugs and biologicals used in the facility are labeled in accordance with currently accepted professional principles; and all drugs and biologicals must be stored in locked compartments, separately locked, compartments for controlled drugs.
---
Provide medically-related social services to help each resident achieve the highest possible quality of life.
---
Coordinate assessments with the pre-admission screening and resident review program for mentally-ill and mentally-retarded patients.
---
Ensure that each resident's 1) entire drug/medication regimen is free from unnecessary drugs; and 2) is managed and monitored to achieve highest level of well-being.
---
Allow residents the right to participate in the planning or revision of care and treatment.
---
Make sure that doctors see a resident's plan of care at every visit and make notes about progress and orders in writing.
---
At least once a month, have a licensed pharmacist review each resident's medication(s) and report any irregularities to the attending doctor.
---
Have a program that investigates, controls and keeps infection from spreading.
---
Ensure that a nursing home area is free from accident hazards and provide adequate supervision to prevent avoidable accidents.
---
Learn more about Wadsworth Glen Health Care Cen at the following resources
Inspection Results Penalty Enforcements Maps and Directions
Staff Size Medicare Ratings Ratings Comparison
or return to the main profile page for
Wadsworth Glen Health Care Cen
---
Still looking for the right senior care match?
Search by key terms like services or cities you are interested in (Middletown medicaid, dialysis, price etc) below: