Summit Health & Rehab Center
Inspection Results
---
Summit Health & Rehab Center has been cited for a total of 10 deficiencies in our most recent deficiency data, which typically covers 3 health and fire safety surveys.

Tip: Surveys happen throughout the year and you may want to check with the location or here to see if more recent data is available for Summit Health & Rehab Center.

There are 228 nursing homes in Arkansas with a total of 5,162 deficiencies resulting in an average of 22.64 deficiencies per nursing home.

---
---
The following table describes how deficiencies are scored. An easy way to remember the severity of a deficiency's scope is that the further along in the alphabet (A through L) the scope value is, the more severe the deficiency is.
Additionally, A through F means no actual harm has happened.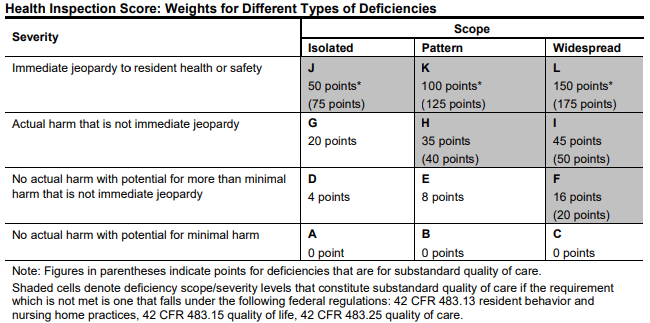 ---
Deficiency Cited, Scope, and Date of Correction
---
Assess the resident completely in a timely manner when first admitted, and then periodically, at least every 12 months.
---
Assure that each resident?s assessment is updated at least once every 3 months.
---
Ensure that a nursing home area is free from accident hazards and provides adequate supervision to prevent accidents.
---
Try different approaches before using a bed rail. If a bed rail is needed, the facility must (1) assess a resident for safety risk; (2) review these risks and benefits with the resident/representative; (3) get informed consent; and (4) Correctly install
---
Implement gradual dose reductions(GDR) and non-pharmacological interventions, unless contraindicated, prior to initiating or instead of continuing psychotropic medication; and PRN orders for psychotropic medications are only used when the medication is ne
---
Give proper treatment to residents with feeding tubes to prevent problems (such as aspiration pneumonia, diarrhea, vomiting, dehydration, metabolic abnormalities, nasal-pharyngeal ulcers) and help restore eating skills, if possible.
---
Ensure that each resident who enters the nursing home without a catheter is not given a catheter, unless medically necessary, and that incontinent patients receive proper services to prevent urinary tract infections and restore normal bladder functions.
---
Ensure that a nursing home area is free from accident hazards and provide adequate supervision to prevent avoidable accidents.
---
Make sure menus meet the resident's nutritional needs and that there is a prepared menu by which nutritious meals have been planned for the resident and followed.
---
Prepare food that is nutritional, appetizing, tasty, attractive, well-cooked, and at the right temperature.
---
Learn more about Summit Health & Rehab Center at the following resources
Inspection Results Penalty Enforcements Maps and Directions
Staff Size Medicare Ratings Ratings Comparison
or return to the main profile page for
Summit Health & Rehab Center
---
Still looking for the right senior care match?
Search by key terms like services or cities you are interested in (Taylor medicaid, dialysis, price etc) below: