Russellville Nursing And Rehabilitation Center
Inspection Results
---
Russellville Nursing And Rehabilitation Center has been cited for a total of 18 deficiencies in our most recent deficiency data, which typically covers 3 health and fire safety surveys.

Tip: Surveys happen throughout the year and you may want to check with the location or here to see if more recent data is available for Russellville Nursing And Rehabilitation Center.

There are 228 nursing homes in Arkansas with a total of 5,162 deficiencies resulting in an average of 22.64 deficiencies per nursing home.

---
---
The following table describes how deficiencies are scored. An easy way to remember the severity of a deficiency's scope is that the further along in the alphabet (A through L) the scope value is, the more severe the deficiency is.
Additionally, A through F means no actual harm has happened.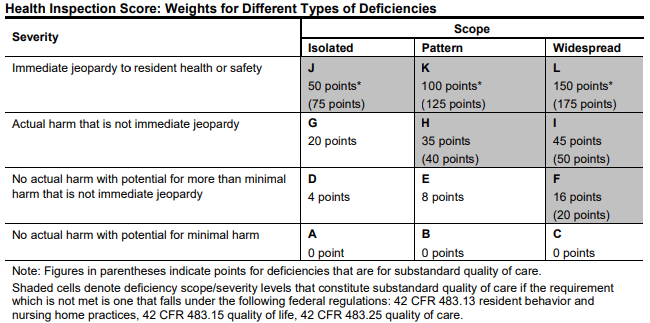 ---
Deficiency Cited, Scope, and Date of Correction
---
Ensure that a nursing home area is free from accident hazards and provides adequate supervision to prevent accidents.
---
Ensure meals and snacks are served at times in accordance with resident?s needs, preferences, and requests. Suitable and nourishing alternative meals and snacks must be provided for residents who want to eat at non-traditional times or outside of schedul
---
Help and prepare each resident for a safe and easy discharge or transfer from the nursing home.
---
Provide care for residents in a way that maintains or improves their dignity and respect in full recognition of their individuality.
---
Review or revise the resident's care plan after any major change in physical or mental health.
---
Give residents proper treatment to prevent new bed (pressure) sores or heal existing bed sores.
---
Make sure menus meet the resident's nutritional needs and that there is a prepared menu by which nutritious meals have been planned for the resident and followed.
---
Prepare food that is nutritional, appetizing, tasty, attractive, well-cooked, and at the right temperature.
---
Provide food in a way that meets a resident's needs.
---
Store, cook, and serve food in a safe and clean way.
---
Permit residents to remain in the facility and not be transferred or discharged without adequate reason.
---
Provide written records when a resident is transferred or discharged.
---
Provide care by qualified persons according to each resident's written plan of care.
---
Have a program that investigates, controls and keeps infection from spreading.
---
Make sure that nurse aides show they have the skills and techniques to be able to care for residents' needs.
---
Give proper treatment to residents with feeding tubes to prevent problems (such as aspiration pneumonia, diarrhea, vomiting, dehydration, metabolic abnormalities, nasal-pharyngeal ulcers) and help restore eating skills, if possible.
---
Keep the rate of medication errors (wrong drug, wrong dose, wrong time) to less than 5%.
---
Provide routine and emergency drugs through a licensed pharmacist and only under the general supervision of a licensed nurse.
---
Learn more about Russellville Nursing And Rehabilitation Center at the following resources
Inspection Results Penalty Enforcements Maps and Directions
Staff Size Medicare Ratings Ratings Comparison
or return to the main profile page for
Russellville Nursing And Rehabilitation Center
---
Still looking for the right senior care match?
Search by key terms like services or cities you are interested in (Russellville medicaid, dialysis, price etc) below: