Oak Trace Care & Rehabilitation Center
Inspection Results
---
Oak Trace Care & Rehabilitation Center has been cited for a total of 4 deficiencies in our most recent deficiency data, which typically covers 3 health and fire safety surveys.

Tip: Surveys happen throughout the year and you may want to check with the location or here to see if more recent data is available for Oak Trace Care & Rehabilitation Center.

There are 231 nursing homes in Alabama with a total of 5,515 deficiencies resulting in an average of 23.87 deficiencies per nursing home.

---
---
The following table describes how deficiencies are scored. An easy way to remember the severity of a deficiency's scope is that the further along in the alphabet (A through L) the scope value is, the more severe the deficiency is.
Additionally, A through F means no actual harm has happened.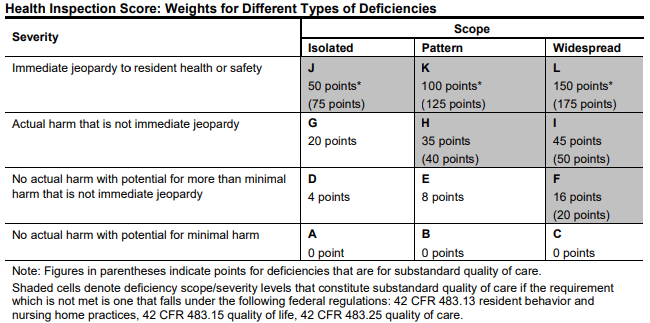 ---
Safeguard resident-identifiable information and/or maintain medical records on each resident that are in accordance with accepted professional standards.
Category:
Resident Assessment and Care Planning Deficiencies
---
Provide and implement an infection prevention and control program.
Category:
Infection Control Deficiencies
---
1) Hire only people with no legal history of abusing, neglecting or mistreating residents; or 2) report and investigate any acts or reports of abuse, neglect or mistreatment of residents.
Category:
Freedom from Abuse, Neglect, and Exploitation Deficiencies
---
Have a program that investigates, controls and keeps infection from spreading.
Category:
Environmental Deficiencies
---
Learn more about Oak Trace Care & Rehabilitation Center at the following resources
Inspection Results Penalty Enforcements Maps and Directions
Staff Size Medicare Ratings Ratings Comparison
or return to the main profile page for
Oak Trace Care & Rehabilitation Center
---
Still looking for the right senior care match?
Search by key terms like services or cities you are interested in (Bessemer medicaid, dialysis, price etc) below: